A 21-year-old care worker who disguised herself as a boy and sexually assaulted a shortsighted teenager by kissing her has been sentenced to a 24-month community order.
A jury at Chester crown court in June found Georgia Bilham guilty of one count of sexual assault. She was cleared of 16 other sexual offence charges.
On Friday Judge Michael Leeming told Bilham, who must also carry out 150 hours of unpaid work, that she needed help.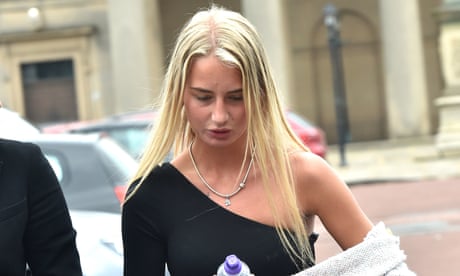 Bilham, from Alpraham, Cheshire, will also have to sign the sex offender register and a five-year sexual harm prevention order was imposed.
A jury at the week-long trial heard how Bilham created a male alter ego called George_132x on Snapchat to trick her accuser into believing she was a boy.
The court heard that "George" always wore a hood over his head, even in bed, while with the teenager. "George" claimed to be "paranoid" because of his involvement with Albanian gangsters.
Bilham was 19 at the time of the assault and the victim 18. The trial heard that the victim was "essentially blind" without her glasses.
An impact statement was read out before Bilham's sentencing in which her victim described the fear and paranoia she still feels as a result of Bilham.
"I feel sick and embarrassed by what I put myself through. If only I was strong enough to not stand for the hood business or to not be so naive and believe the stories she told me. Or if I had just stopped her from taking my glasses."
She questioned why Bilham went "to such extreme lengths to pretend to be someone else, to pretend to be a boy when they are neither questioning their sexuality or transitioning."
She described the effect it had on her mental health, including panic attacks, flashbacks and nightmares. "I'm scared now because Georgia has shown no remorse for what she has done to me and it is scary that she has changed her looks and how she dresses."
The judge said the victim had absolutely no reason to blame herself as it was Bilham who was the deceiver.
"This was a carefully crafted deception in which you created an entirely false persona," the judge said. "Calling yourself George, providing fake photographs, telling everybody your parents were dead, saying that you were from Birmingham, that you had been taken under the wing of an Albanian drugs gang."
He continued: "You took advantage of the complainant's relative naivety. She was completely taken in by you."
The court heard that a psychological report into Bilham found the risk of further sexual offending by her was low to moderate.
The trial heard that Bilham said that she first encountered her victim when she was 14, hanging around as a group outside McDonald's in Chester for half an hour.
Bilham's barrister, Maxine Snowdon, asked her client why she created the false profile and kept it a secret from her friends and family. "I just wasn't happy with myself," Bilham said, adding that it was "just an escape".
The court heard evidence that Bilham thought her mum would not approve of her being in a lesbian relationship.
Snowdon suggested that her client's actions were an effort to hide her sexuality among her family and friends.
Bilham said she considered herself straight now but that, in retrospect, she was not in 2021.
When asked if she had ever wanted to change her gender and become a boy, Bilham answered: "No."
After the verdict in June, the Crown Prosecution Service said Bilham had deprived the victim of the choice to agree to the activity.
The senior crown prosecutor Mairead Neeson said: "This has devastated the victim and her family and the effects of it will remain with her for a long time. The victim thought she was in a loving relationship with a man, but it was all lies, and Bilham is now a convicted sex offender."